Graham Green: an interview
"I've been a film man to date and I was rather afraid that I had written it in such filmic terms that it might not have succeeded as a play."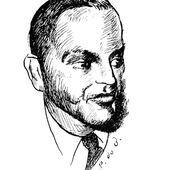 The eighteenth century succeeds to the twentieth on the ground floors at the bottom of St. James's Street. The gloss and the cellophane of oyster bars and travel agencies are wrapped incongruously round the legs of the dignified houses.
http://www.theparisreview.org/interviews/5180/the-art-of-fiction-no-3-graham-greene