Javier Marias, a Spanish writer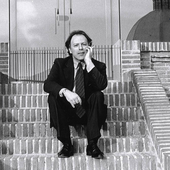 A waiter at a restaurant in Madrid gasped when I mentioned that I was in town to interview Javier Marías. "You know him?" he asked, as if I'd named a president or a movie star. "Sometimes we see him walking down the street."
http://www.theparisreview.org/interviews/5680/the-art-of-fiction-no-190-javier-marias
Marías has a blog but has never seen it and refers to it only as "the Web that wears my name.